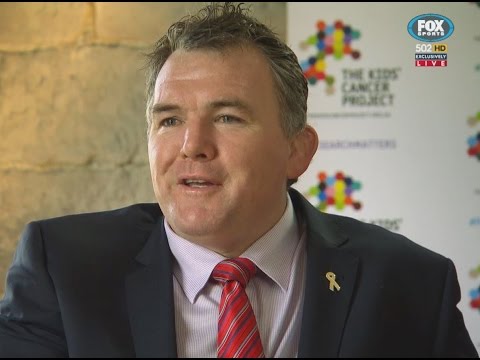 The Kids' Cancer Project – Owen Finegan's Secret Success
Former Wallaby, ACT Brumbies and Randwick player Owen Finegan (Melon to his friends) has been described as an icon of Australian sport and "One of the true characters of the game" A practical joker and niggler, Owen was a dedicated and passionate leader and game-breaker. His dry humour is matched only by his burly good looks, (he put this line in).
Owen was a powerfully built backrower who had an uncanny ability to score a try when required. His career highlight was scoring the winning try in the 1999 Rugby World Cup Final against France. Starting 40 metres out, he ran through most of the French team and had the rest of them on his back trying to force him to the ground.
Owen played more than 50 matches for the Wallabies and was a foundation member of the ACT Brumbies. In addition to his World Cup win, accolades include: a series win against the British Lions, two Super 12 championships, Bledisloe Cup triumphs, and a Wallaby Player of the Year award. He was also named in the Wallaby Team of the decade.
All of the above information's freely available on the internet. What you probably don't know about Melon is that after he retired from Rugby he made the successful transition into the Not for Profit space and is now the CEO of the Kids' Cancer Project, an independent national charity dedicated to supporting childhood cancer research. I don't think it's possible to think of a worthier cause championed by a better bloke.
If you would like us, to help Owen raise funds for the Kids' Cancer Project. Please get in contact to arrange for him to speak at your next event, conference or sports dinner. His humour and understated delivery make him a fabulous choice for any occasion.