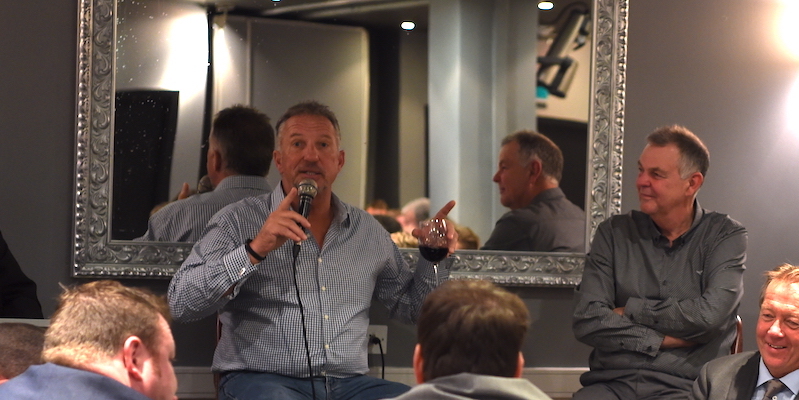 'A Knight to Remember', with Sir Ian Botham and Geoff 'Dusty' Miller
ISG are very pleased to be able to offer one of the funniest sporting speaking duo's that has ever toured the southern hemisphere. Sir Ian Botham, and Geoff 'Dusty' Miller (Speaker of the year for 4 of the last 5 years as voted by his peers in the UK) are touring for the first time in Asia, Australia and New Zealand for a limited period in February 2018.  They will make your event 'the must attend' conference or club function in 2018. In addition to, Dusty's cricketing accomplishments, his greatest ability was to keep his team mates entertained on the field with his hilarious dry wit.
In 20 years as a professional cricketer with Derbyshire, Essex, Natal and England, Geoff toured all the major Test playing countries and played against all the modern-day greats with Geoff himself being the first to admit that he 'wasn't one of them'. Dusty's anecdotes and stories of the adventures of he, and his contemporaries are suitable for all-male or mixed audiences. Geoff's career as an after-dinner speaker has been as successful as his international career. He is undoubtedly one of the funniest sporting speakers around. His anecdotes of wild nights in the West Indies, shenanigans in Australia and bunking with Ian Botham on tour for five years has given him seemingly endless material.
Paired with his great mate, Sir Ian Botham, affectionately nicknamed Beefy, was one of the greatest and most charismatic players in English cricket history. Botham's mantra was simple, he played hard on the field and played to win, but always shared a drink with his competitors after the match. Sometimes with disastrous, hilarious results, as Dusty will no doubt expand on.
Beefy earned fame and attention in England, a country that at that time was starved of heroes, but Botham always saved his best for his favourite opposition, Australia. In the 1980s, Botham was the only genuine match winner England had in their side. Botham had an uncanny ability to turn a match single with the bat or ball. In the 1981 Ashes series he won two games in such fashion and many began referring to the series as Botham's Ashes.
Botham's also won fans though his championing of the cause of Leukaemia and has raised over 20 million pounds by organising charity walks, in 2007 he was knighted by Queen Elizabeth 2nd in recognition for his services to charity. Beefy is one of our most requested corporate speakers, who continually receives fantastic feedback for his humorous anacdotes and stories. Putting him together with Dusty is an inspired combination that will make you cry with laughter as their friendship off stage moves into the spotlight for the first time.
To book Beefy and Dusty, please get in contact as soon as possible as all indications are their tour will be a sell-out.